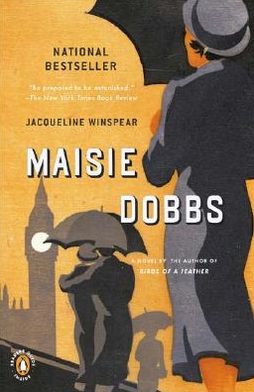 Just finished reading the first book in the Maisie Dobbs mystery series by Jacqueline Winspear. Fans of well-written historical fiction and mysteries featuring intelligent women are sure to enjoy following the exploits of M. Dobbs, Psychologist and Investigator.
A significant portion of this first book in the series is devoted to Maisie's backstory. After her mother dies, young Maisie is sent to work for the Comptons as an undermaid. Fans of Downton Abbey will enjoy reading about her life "below the stairs" in this well-to-do household. There's even a loyal butler named Carter who bears a striking resemblance to a certain butler in service to Lord Grantham.
When Maisie is caught reading in library one night, Lady Rowan, the liberal-minded lady of the house, encourages her to continue her education. Enlisting the help of Maurice Blanche, who becomes Maisie's tutor and mentor, Lady Rowan helps Maisie gain admittance to the prestigious Girton College at Cambridge.
Unfortunately, her academic pursuits are cut short by the outbreak of World War I. Maisie does her part by volunteering as a V.A.D. nurse with the Red Cross and is ultimately sent to tend to the wounded on the battlefields of war-torn France. During that time, Maisie experiences love and loss on a deeply personal level, the memories of which she keeps carefully buried.
Years later, Maisie's past catches up to her while working her first case as a private investigator. During the course of a routine investigation, she comes across a curious set of cemetery markers that share a troubling connection - the lack of a surname. The trail leads to a home for battle scarred veterans called The Retreat, but is this respite from the world all it's cracked up to be? Her quest to learn the truth stirs up painful memories from the war. Solving the case will mean confronting her own demons, but is she brave enough to face the truth after all these years?
More than just another cozy mystery series, Maisie Dobbs explores issues of class, gender, love and loss following the wake of World War I.
Maisie Dobbs is available to check out in multiple formats including print, audio CD, e-book, or e-audiobook.
Maisie Dobbs Series:
1. Maisie Dobbs
2. Birds of a Feather
3. Pardonable Lies
4. Messenger of Truth
5. An Incomplete Revenge
6. Among the Mad
7. The Mapping of Love and Death
8. A Lesson in Secrets
9. Elegy for Eddie
10. Leaving Everything Most Loved
If you enjoyed the Maisie Dobbs series, here are some other titles that may interest you: